Available Parking Options
Rates are effective July 1, 2022
All STS parking lots are conveniently located. The furthest space is less than 300 yards from the terminal. ADA accessible spaces are available in Long Term Parking Lots A and B as well as Short Term Parking. The first two hours of parking are free*. Parking reservations are recommended during the busy travel seasons. Click here to reserve parking »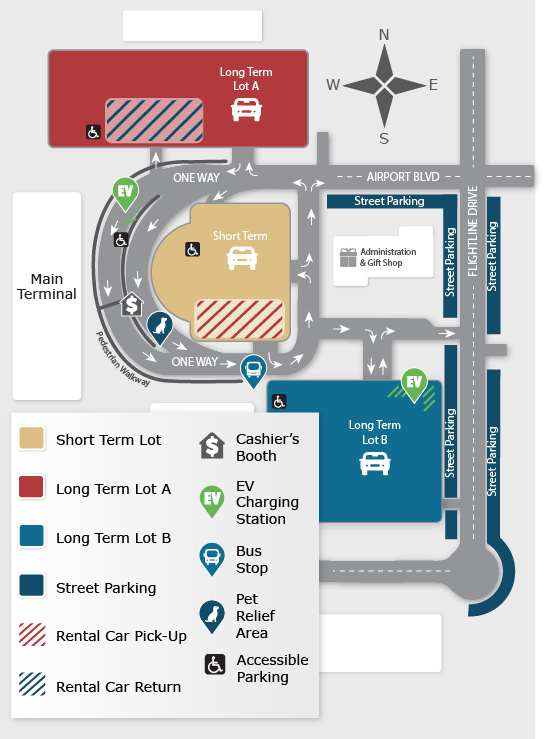 Short Term Parking Lot is located east of the terminal. Fees are $2 per 30 minutes with an $20 daily maximum.  
Long Term Parking Lots A and B are located northeast (Lot A) and southeast (Lot B) of the terminal. Fees are $15 a day. 
Street Parking is located on the east and west sides of Flightline Drive which is one block east of the Airport. Fees are $2 per 30 minutes with a $15 daily maximum. Click here to access the app for payment »
Valet Parking is available Mon-Fri at 9 a.m. and Sat-Sun at 10 a.m. through reservation only. Fees are $25 per day. Credit card payment is taken at the time of reservation. Click here to make a reservation »
Monthly Pass is a parking option that can be arranged by calling our parking services company SP+ at (707) 583-5130 or by emailing STSparking@spplus.com. 
* The first two hours of Free Parking applies ONLY to the first day in our Short Term and Long Term Parking Lots. Each day after the first day is subject to the posted maximum daily rate for each parking lot.  
Payment
All parking lots accept credit cards upon exiting. For cash payment, please visit the walk-up cashier's booth across from the terminal. 
Reserve Your Parking
A Reserved Parking Fee of $4.00 will be charged for all parking reservations.
"*" indicates required fields
Pick-ups and Drop-offs
Passenger pick-up and drop-off loading zones are located near the front of the terminal. Please look for signs and painted curbs indicating the authorized locations. These areas are intended for quick pick-up and drop-off. Unattended vehicles in these loading zones will be cited. 
Electric Vehicle (EV) Charging Stations
Refer to the above Parking Map for location of EV Charging Stations in the Short and Long Term parking lots.
Parking Operations & Management
SP+ Airport Services manages the parking for Sonoma County Airport. Contact SP+ Airport Services if you have issues with parking or would like to request assistance, a battery jump, tire inflation, or locate a lost vehicle.