The Charles M. Schulz – Sonoma County Airport (STS) has a long history in Sonoma County. In 1941 the County purchased 339 acres of agricultural land and began constructing a runway using grant funds from the Civil Aeronautics Authority (predecessor to the Federal Aviation Administration). The U.S. Army took over in 1942 and added 826 acres, extended the original runway, built a second runway, added taxiways, apron areas, and other facilities. Two of the hangars constructed by the Army remain in use today. Between February 1943 and January 1946, the U.S. Fourth Air Corps operated the Sonoma County Airport. At that time, it was known as the Santa Rosa Army Airfield and was used primarily to train fighter groups and squadrons. At its peak, some 300 to 500 aircraft and 10,000 personnel were based on the army field.
The County resumed operation of the Airport in July 1946 and continues its operation as an Enterprise Fund within the Department of Transportation and Public Works. STS is designed to be self-supporting through user fees and does not rely on general fund contributions. Although the County operates STS, it is done so under the jurisdiction of the Federal Aviation Administration (FAA). Throughout most of its history, STS has been both a general aviation facility serving private planes and business jets, and a commercial airline facility with scheduled air service.
After Sonoma County resumed operation of the Airport as a civil facility, two T-hangar structures were built on Airport grounds. Relatively few improvements occurred in the following decade due to uncertainties about whether or not this site or the Santa Rosa Air Center (located 6 miles southeast of the Airport) would be better suited as the County's main airport. The 1960s brought resolution to this issue in favor of the current site. Shortly thereafter, development of additional T-hangars, the Air Traffic Control Tower (ATCT) and the airline terminal building began.
In the 1970s and early 1980s, the "Nob Hill" T-hangars (located on Apron E), fire station, an instrument landing system, and non-aviation commercial facilities were added to the Airport. Other improvements that occurred during this time period include additional T-hangars, portable hangars, executive hangars, apron expansion, and on-airport access roads and fencing.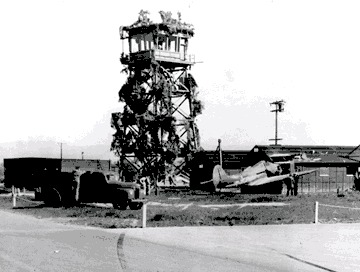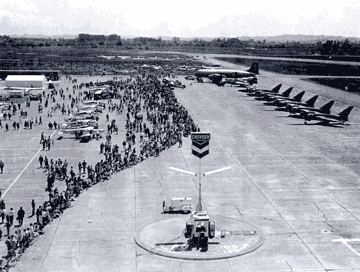 Throughout its history, the Sonoma County Airport has operated primarily as a general aviation facility serving private/recreational airplanes, and business/corporate aircraft. It has also operated as a commercial service airport offering mostly commuter airline service to San Francisco and Los Angeles. In March 1947, Southwest Airways (changed to Pacific Airlines in 1958) operated a DC-3 out of Sonoma County Airport as the first scheduled commercial flight. In later years, this airline operated Martin 202s and Martin 404s and occasionally the Fairchild F-27 flew service from the Airport.
In 1968, Pacific Airlines was merged into Hughes Airwest. Scheduled feeder/commuter service by STOL Air, Inc. began in September 1972, with Sonoma County Airport as the base for its operations. In the past, STS has also had service to various Northern California cities via commuter carriers such as Golden Pacific and Golden West, both of which utilized Beech 99 aircraft. Passenger enplanements have varied greatly at the Airport over the past 15 years. In May 1967, the community held an Airport Appreciation Day at Sonoma County Airport. Air passenger demand levels have remained consistently high throughout the period, with service by United Express to San Francisco International and Los Angeles International Airports as its mainstay. The most recent peak period for air passenger activity at STS was between 1989 and 1991. During this period, the Airport was served by both United Express, with jet service to Los Angeles International Airport, and by American Eagle with prop-jet (turboprop) service to San Jose International Airport. United Express curtailed its service to Los Angeles at the end of 1991 and American Eagle discontinued its San Jose connection at the end of 1993.
From 1991 to 1998 passenger enplanements declined, going from 58,074 passengers in 1991 to 17,762 in 1998. In 1999 and 2000 passenger enplanements began to climb again, going from 27,335 in 1999 to 32,177 in 2000. United Express discontinued its air carrier service in October 2001.
From October 2001 until March 2007, the Airport did not have any regularly scheduled air carrier or commuter airline service. During this period, significant numbers of passengers either used the Airport bus service or drove to San Francisco and Oakland International Airports.
Sonoma County Airport in the 21st Century
In March of 2000, the Sonoma County Board of Supervisors voted to change the Sonoma County Airport's name to Charles M. Schulz – Sonoma County Airport. The name change was in honor of the famous "Peanuts" comic strip cartoonist who lived for many years in Sonoma County, leaving a lasting legacy with his beloved characters' whimsical antics. Mr. Schulz and his family have made many positive contributions to Sonoma County, including the Snoopy Home Ice Arena and Charles M. Schulz Museum.
In October 2002 the Airport appointed the Airline Attraction Committee, an advisory committee made up of community leaders. Its mission is to assist Sonoma County with the attraction of air service by acting as a sounding board for business and community interests, and to facilitate support for advance ticket purchases and local marketing.
On March 20, 2007, air service resumed when Horizon Air began non-stop scheduled service from Sonoma County Airport to Los Angeles and Seattle. Flights are operated with 74-seat, Q400 twin-engine turboprop aircraft. On October 28, 2007, a new daily flight to Portland (PDX) began. On April 24, 2008 a daily non-stop flight to Las Vegas was added to the schedule. In 2010 Horizon Air was rebranded as Alaska Airlines. On June 4, 2012, non-stop service to San Diego began and air service to Las Vegas ceased. The Airport continues to talk with Alaska Airlines and other carriers about adding new destinations to its schedule. Destinations under consideration are Denver, Salt Lake City, Hawaii, Mexico, and Phoenix.
In addition to being self-supporting, STS generates over $1,300,000 annually in tax revenues, via its users, for Sonoma County and County School Districts.
Peanuts™ Sculptures at STS
The Flying Ace and World Traveler Lucy
The Flying Ace and World Traveler Lucy are part of the Peanuts™ on Parade sculpture series. Participants painted the sculptures at the Santa Rosa Fairgrounds during a 24-hour a day paint-a-thon. Airport employees Melinda Gay, Leonard Wagner, and Randy Pricert worked on the Snoopy sculpture. Melinda designed the statue, made sculptural elements, and painted the statue; Leonard and Randy created sculptural elements. The Flying Ace was installed at the Airport in May 2007. World Traveler Lucy was painted by artist Deborah Garber and was installed in June 2010. Lucy features travel stickers from around the globe, a camera, backpack, and map.