Solar Energy Project to Power 100% of Airport Operations with Clean Energy.
On Monday, August 16th, the Charles M. Schulz Sonoma County Airport commenced construction of a solar photovoltaic (PV) energy system. Developed by solar energy contractor ForeFront Power, the 884 kW solar PV energy project includes a solar PV canopy system over Long Term Parking Lot B. The solar PV canopy will offset the Airport's greenhouse gas emissions by generating enough clean, renewable electricity to power 100% of Airport operations. The solar PV system will also provide valuable shade for vehicles in the parking lot. This particular solar PV system is a fixed tilt, solar PV parking canopy comprising 2,010 LONGi LR4-72HPH 440 Watt panels. The project is expected to be completed by early 2022.
"This Solar Canopy Project is a great example of the type of project that Sonoma County needs to be undertaking," said Board of Supervisors Chair, Lynda Hopkins. "Through the production of clean, renewable electricity, Sonoma County will be helping to offset the Airport's greenhouse gas emissions, moving another action forward in its strategic efforts toward climate change prevention."
"Anything we can do to move our community toward a regenerative future is critical right now," said 4th District Supervisor, James Gore. "The County's commitment to adapting to climate change is evident in this project, among many others, and I'm excited about the prospect of the Airport operations being powered completely by renewable energy."
"We are excited to deliver this important project at the Airport," said Director of Sonoma County Transportation & Public Works, Johannes Hoevertsz. "It is without a doubt another step in reducing our carbon footprint and addressing climate change."
"It is extremely satisfying to have finally started this project after a multiple year effort of getting the contract approved, seeking and receiving FAA approvals, and coordinating with other County agencies and departments to ultimately convert the Airport operations to 100% solar power," said Airport Manager, Jon Stout.
"ForeFront Power is pleased that we could help convert a significant component of Sonoma County's infrastructure to clean, renewable energy," said Charles Sohm, Chief Development Officer, ForeFront Power. "This solar canopy is just one part of the Airport's long-term sustainability strategy and we look forward to assisting the County with future initiatives."
Due to project location and timeline, Long Term Parking Lot B will be operating at fifty percent capacity or less. In response to this, the Airport has launched street parking and valet options to help boost our existing parking stock and services. Long Term Parking Lot A and Short Term parking remain available, but capacity is limited as well. To the extent possible, it is encouraged that travelers use alternative forms of transportation to and from the Airport to avoid any delays during this enhancement project. Reservation of parking spots is recommended. Please visit our Parking page for more information.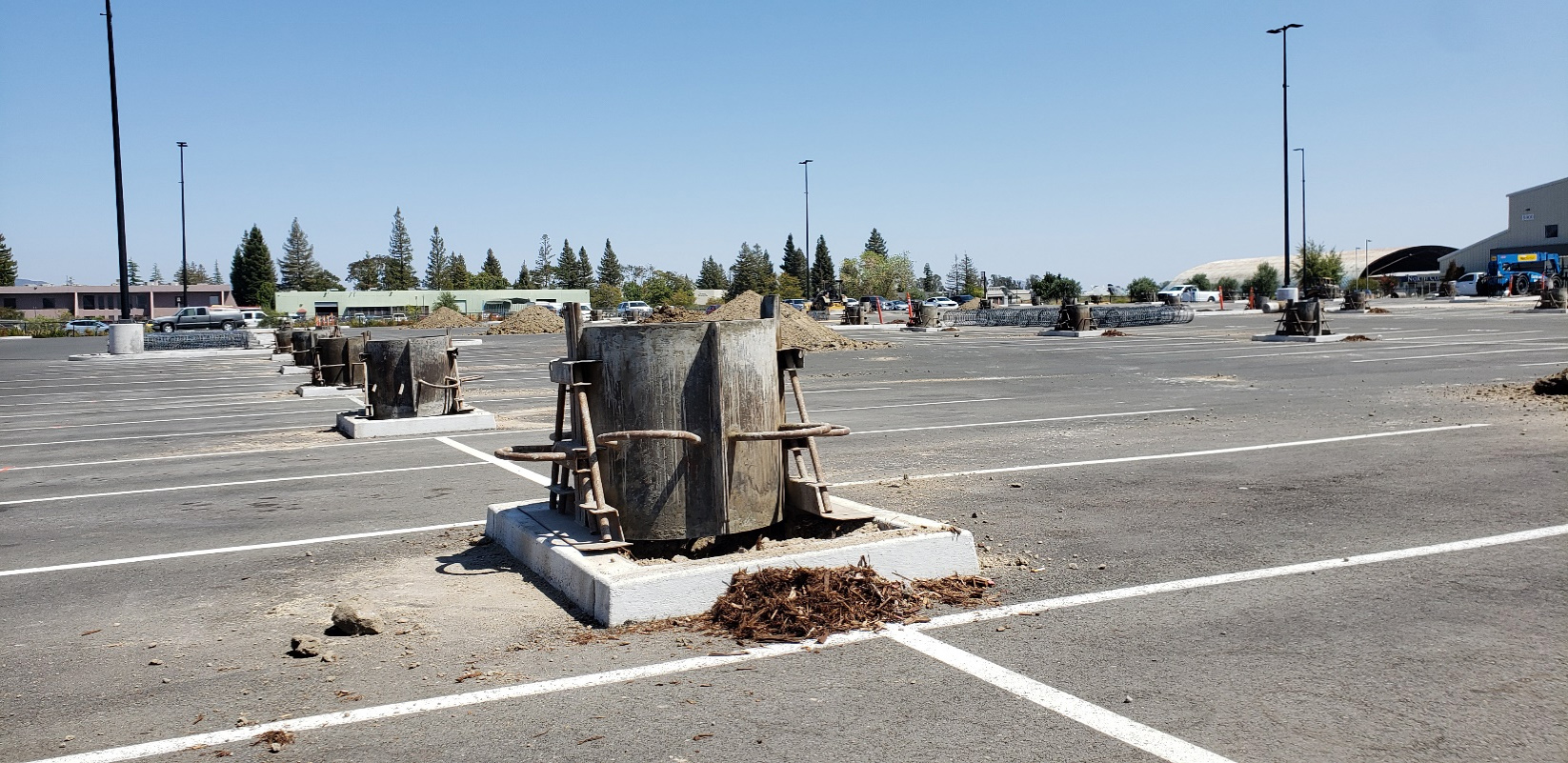 About Charles M. Schulz – Sonoma County Airport (STS)
Located in the heart of Northern California's world-renowned Wine Country, STS is the only airport that offers scheduled air service into the North Bay region. Daily nonstop flights include: Alaska® Airlines to Burbank, Los Angeles, Orange County, San Diego, Portland, and Seattle; American Airlines to Phoenix, Dallas and Los Angeles; Avelo Airlines to Burbank and Las Vegas; and United Airlines to Denver and San Francisco. All Airlines offer a wide-range of connecting flights to destinations across the continental U.S., Mexico, and beyond.
Offering a hassle-free experience with shorter lines and an easier commute for North Bay residents, the Charles M. Schulz – Sonoma County Airport (STS) also features convenient ground transportation, easy and affordable parking with 2-hours free and electric vehicle (EV) charging stations, Alaska Airlines' Wine Flies Free program, the on-site Sky Lounge Steakhouse & Sushi Bar, and Costeaux on the Go.
For additional airport information, follow Charles M. Schulz – Sonoma County Airport (STS) on Facebook, Twitter, LinkedIn, and Instagram.
About ForeFront Power
ForeFront Power is a leader in the United States for solar and energy storage solutions. The ForeFront Power team holds more than a decade of experience working together across nearly one gigawatt-DC (GW) of renewable electricity, spanning more than 1,300 distributed generation and community solar projects. Serving business, the public sector, and community solar customers in the U.S. and Mexico, ForeFront Power is headquartered in San Francisco, with offices in New York City and Mexico City. ForeFront Power is a wholly-owned subsidiary of Mitsui & Co. Ltd., a global energy infrastructure and investment leader with a robust balance sheet and an "A" credit rating from Standard & Poor's. For more information, visit www.forefrontpower.com.